Treasure Island – The Panto by Richard Lloyd
Wednesday 19th to Saturday 22nd January 2005
Civic Hall, Trowbridge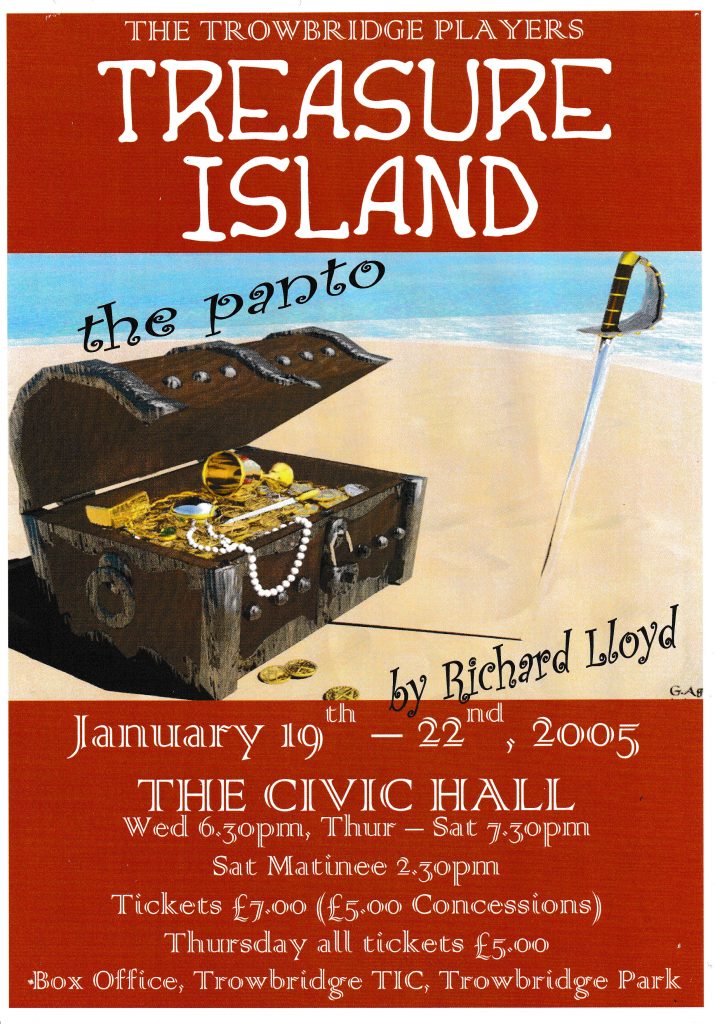 Avast behind, shipmates! And stand by to go about for a hugely successful pantomime version of everybody's favourite swashbuckling classic. Treasure Island, The Panto brings you all the very best of traditional pantomime, including custard pies, exploding cannon, gaudy costumes, and absolutely no opportunity missed to press-gang the audience right into the thick of the seafaring action!
And all this played out against the glorious Technicolor backdrop of the high seas, where the heroic derring-do of unfeasibly good looking goodies is pitted against the fiendish skullduggery of unbelievably gruesome baddies. From eye-patches and treasure chests, to poop decks and peg-legs. Some poor unfortunates even get forced to walk the plank into a (concealed) monster paddling (shark-infested, naturally) pool! And of course, there's Cap'n Haddock, a giant talking pantomime parrot!
Jim Ladd (the youthful hero of our seafaring yarn) stumbles across a mysterious map, showing the whereabouts of the buried treasure of infamous pirate captain, Squint. In the company of Mrs. Ladd (Jim's mother and indomitable pantomime dame), Squire Polperro, Doctor Liversausage, and Captain Smellit, Jim sets out to recover the treasure. Yet he is blissfully unaware that the vessel they embark on is run by none other than Squint's old gang, led by the rascally, one-legged Long John Slither, and his disreputable henchmen Israel Feet and Blind Pewk!
Directed
by
Lyn Taylor
Cast
Squire Polperro
The Hon Nancy Polperro
Doctor Liversausage
Captain Smellit
The Scum of the Seven Seas
Billy Fishbones
Long John Slither
Pink Dog
Blind Puke
Israel Feet
George Merry – Pirate
Seamus "Groundbait" O'Flaherty
T'Others
Jim Ladd – Principal Boy
Mrs. Ladd
Bodmin
Newquay
Bertha Gunn – Pirate
Captain Haddock – A Parrot
Los Espangnols
Don Iguana Del Anaconda Con Questo
Donna Estelle Del Torremolinos y Chimichanga
Assorted Pirates, belike
Emma Cosslett
Imogen Dunne
Rebecca Wyatt
Mark Rhodes
Becky Curtis
Francis Holmes
Angela Giddings
.
Maxson Bailey
Tim Knott
Nadine Comba
Sylvia Seaman
Charlotte Havergal
Helen Cosslett
Michael Comba
.
Miriam Havergal
Peter Grant
Stella Greaves
Nick Havergal
Sandie Brooks
Jamie Arberry
Maxson Bailey
Virginia Havergal
Alex Knight
Georgia Dunne
Virginia Havergal